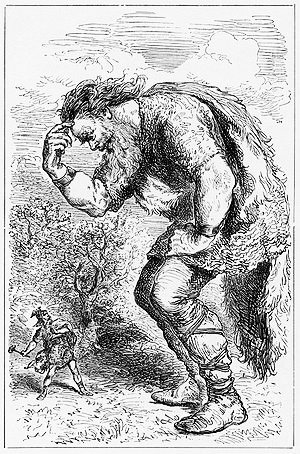 Thor said Summer was the open season and he announced his plan of making a journey east into Utgard and flexing himself against the giants. 'However few they are,' he said, 'they are too many.'
In Utgard,' said Loki, 'you'll need sharp wits.'
'Sharp wits,' repeated Thor seriously.
'And yours are as blunt as your hammer,' said Loki, winking at Thor. 'Why not take me?'
Thor ignored the insult and accepted the offer. 'Evil creature: good companion,' he said.
Loki's eyes gleamed, now brown, now green, now indigo. His scarred lips parted a little and twisted into a wolfish smile.
'Tomorrow, then,' said Thor.
Very early in the morning, before the sky turned blue and before a cock crowed, Thor had his goats brought in from Thrudvang and harnessed to his chariot.